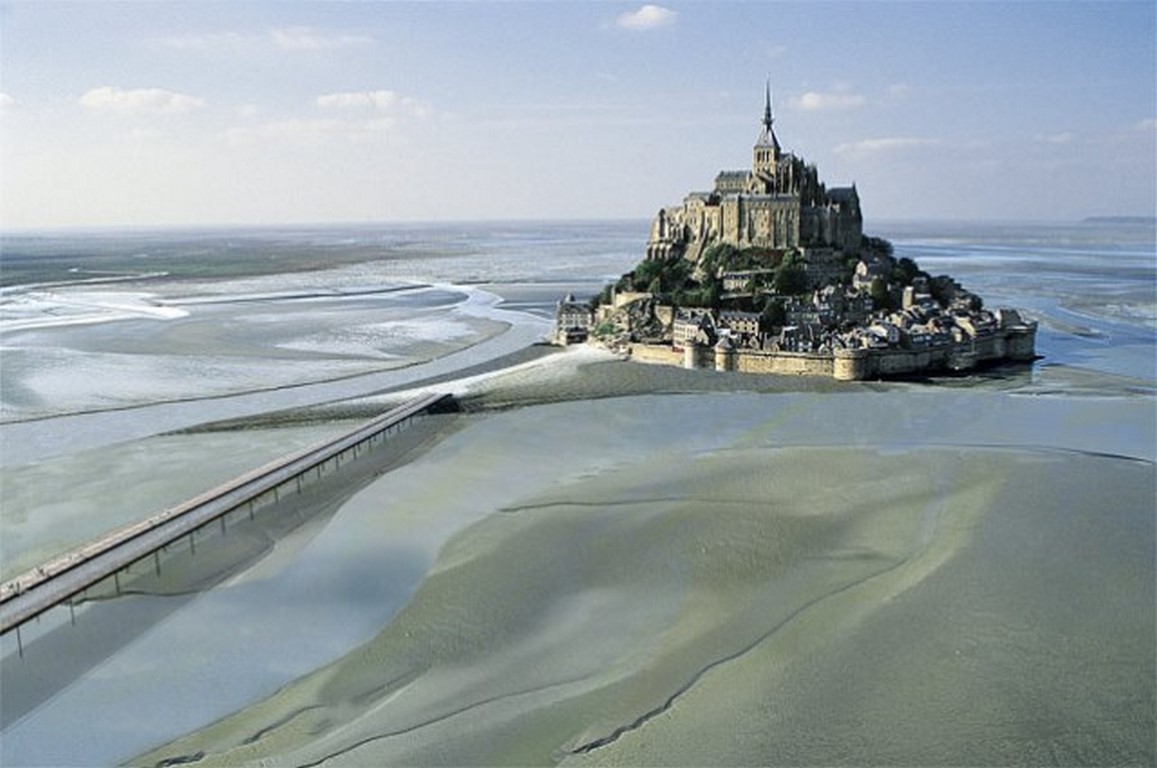 The month of May and Early May bank holiday have arrived! 
Take advantage ok Early May bank holiday to spend a week-end in Normandy, in the Mont-Saint-Michel Bay. 
At only 1h30 from Cherbourg and Saint Malo harbours, Lez-Eaux campsite welcome you and your family at sea-side, between Granville and Jullouville.
Best visits you can do during Bank holiday or week-end in the Mont-Saint-Michel bay

The Mont-Saint-Michel; our Normand wonder
Even if we were over there for 1, 2, 3 or 10 times, we never get bored of it; it is always different. Even if we live close to Mont-Saint-Michel, we visit it, at least, once a year!
This village build on a huge rock in the middle of the sea, is a wonderful one. classified as a world heritage site by unesco, its Abbaye is worth to buy tickets for it. We feel as priviledge people when we arrive on the huge esplanade which leads on the sea, from Granville to Saint-Malo.
We come over all France and even all over the world; indeed, if you stay next to it, enjoy to go at the beginning or the of the day.
Beaches in Mont-Saint-Michel Bay, Normand side
By bike or by car, enjoy our large sandy beaches to tan, play or to bath! For calm lovers, you may prefer Kairon beach in Saint-Pair; for entertainment or ice-creams lovers, Granville or Jullouville are the best beaches for you!
At only 15 kilometres from the campsite, take pleasure for a gorgeous walk on the cliff sides. Join Carolles beach! Some walking kilometres and a unique view on the Mont-Saint-Michel and its Bay.

Charming villages with an incredible sight
Genets and Saint Léonard are two villages with Britany looks, located between Carolles and the Mont-Saint-Michel. Set back from tourism activities, because of the tides that are more important and not bathing friendly, you will find calm and an unmatched view. It is over there where you will meet the salty meadows and their sheep.
From the campsite, you will spend the best kilometre of France, by Champeaux, to reach it!
Sleep in Château de Lez-Eaux campsite, in a chalet, mobile-home or motor-home and caravan camping pitch
Lez-Eaux campsite, relax, entertainment and nature with all the family
Set between Normandy and Brittany, south of Manche is a gorgeous natural area. The campsite is luckily located, and has many things to offer all around!
During your "Mont-Saint-Michel" week-end, be pleased with the quiet and relax atmosphere of the campsite! Here, nature reigns … and games!
The campsite offers a wonderful water park, unique in Normandy, with slides, buoys slides, and areas for the little ones; all of it: indoor! The outdoor swimming pool will open on the 10th of May, you will enjoy during Ascension and Pentecost.
Kids and adults will be able to take advantage on the playgrounds, petanque court, bouncy castles, home ball, fishing, sport courts …
Fresh bread and pastries are sold at the grocery in the morning; aperitifs and pizzas are waiting for you on the services terrace.
Book a chalet, a mobile-home or motor-home and caravan camping pitch or a treehouse
In Lez-Eaux, we propose accommodations for every tastes for high and low prices.
For the week-end, you can book a chalet or mobile-home for 4, 6 or 8 persons, from the simplest to the most equipped one for babies or with hot tubs.
For adventurers and unusual lovers, discover the treehouse for 3 or 4 persons. Breakfast is delivered at the bottom of your terrace in the morning!
For the purist campers, our spacious camping pitches, 100 m² minimum. We offer you camping pitches adapted to your equipment: tent, caravan or motor-home. You will even find camping pitches with kitchen and private sanitary.
We are pet friendly!
Do not hesitate to contact us for further information.