Guests' reviews and testimonies about camping site Castle Lez Eaux
Today many websites suggest holidaymakers to share their experience at Lez-eaux campsite. We are so pleased to read your compliments and take into account each of your comments to keep improving our facililities. We care about answering every review.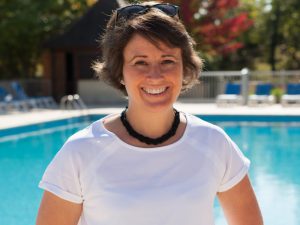 Cécile de la Varde, owner of the campsite Château de Lez-Eaux :
« I thank all the people who have stayed at Camping Château de Lez-Eaux and kindly leave a comment. It helps us to inform you better. Your comments and encouragement help us to improve our site. Hope to see you soon ! »
These are efforts that bear fruit :
Certified Satisfaction rate= 8,5/10 in 2018
Online certified reviews about the campsite Lez-Eaux:
Satisfaction survey after your stay
After your stay, you will receive by email an oline satisfaction inquiry so that you can give us your feedback about your holidays in normandy. It is important to us to collect your comments and to know what you have liked the most and the less during your stay at Château de Lez-Eaux.
We want you to be greeted in high level of quality environement. Thanks to this survey we can meet your demand.
We do thank you for your reviews and comments.