Half day must-do visits and excursions around Lez Eaux campsite
Half-day museums and heritage visits near Granville.
Both in the Cotentin and the Mount Saint Michael's Bay, enjoy of a region full of discoveries, visits and entertainment.
If D-Day landing beaches need a entire day to visit, and you only have half a day available, you can go to the German Cemetery in Huisnes sur Mer, the American MIlitary Cemetery in Saint James or La Pointe du Roc in Granville. You will see there bunkers to and some remains of the WW2 in Normandy.
Do not miss Christian Dior's childhood home, which became a museum to his effigy. The gardens with offer a wonderful view on Chausey Islands. In the Haute Ville of Granville you will find Richard Anacreon and the Art and History Museum.
With family, kids will be delighted to discover seashells and vivarium of the Roc des Harmonies.
In Avranches, the Scriptorial collects oldest manuscripts of the Mount Saint Michael. In the Ecomuseum of the Bay, old instruments for salt picking are exposed and functioning of the ecosystem in the bay is explained.
You will have the opportunity to visit the bell foundry in Villedieu Les Poëles, internationally known for recently having created the Notre Dame de Paris bells.
La Lucerne Abbey, 10 minutes driving from the campsite, is a very pleasant walk in the countryside and in the forest. During the summer, medieval activities are organized. Our most beautiful religious monuments are Hambye abbey and Coutances Cathedral.
Gastronomy and local markets
In Normandy, close to Britany, culinary specialities do not miss in Granville and the surroundings.
Let's discover businesses' shops :
Le poil gourmand
La belle-iloise (sardines)
au carnaval des fromages (cheese)
le Comptoir Irlandais, Cara-meuh (toffee)
Saumonerie Granvillaise (salmon)
la Pulperia, Réo (camembert) …
As well as our local productions :
La Brasserie de la Baie (bier)
La Chocolathèque
L'andouillerie de la Baleine
Ferme de l'Hermitière (cidre)…
Local farm markets: in Le Crécey on Monday evening, and in the Ferme de la chèvre rit on Tuesday evening.
Local markets near Granville
Must-do during family holidays: here the list of markets within 20 kilometres around the campsite :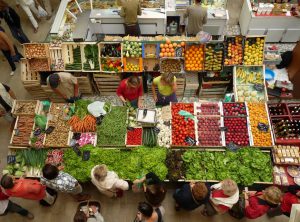 Tuesday : Bréhal – Jullouville (mid-June to mid-September)
Wednesday : Granville (food market)
Thursday : Saint Pair sur Mer
Friday : Jullouville
Saturday : Granville and Avranches
Sunday : all during summer holidays only- St Jean le Thomas – St Martin de Bréhal – Hauteville sur mer
Half-day activities and leisure for family
Seaside town Granville, provides all necessary activities for relax holiday:
Archipel Theater
cinema
golf
casino
Previthal thalassotherapy …
Saint James or Saint Germain sur Ay Cabaret.
With family, bring your children on the country roads: horseriding and farms visits will please them, guaranteed success for Champrepus Zoo and Aligatorbay too. During summer, discover the corn labyrinth or the mini-golf in Kairon. With teenagers, the ice rink in Coutances or the karting in Saint Pience will be a good choice
Inevitable walks and hiking
For a walk in the heart of the Norman countryside, you don't need your car. At the reception you will find maps to go with your family and pets for a walk in the nature to the seaside.
Our favorite walks near Granville : La Lucerne forest, La Cabane Vauban and Champeaux cliffs with a view on the Mount Saint Michael's bay, Mortain waterfalls.
Match shopping and Granville discovery by reaching the Granville old town and the Pointe du Roc.
For seasides excursions, chose les Salines in the Havre de la Vanlée, le Bec d'Andaine or the painter's valley.
Seasides outings
You will find near Granville any nautical activities: paddle, catamaran, sail … Try foot fishing : alone or with a guide. Do not forget to consult the tidal schedule before going there.
These activities are also possible on our rivers. You can go canoeing on the Sélune or stand up paddling on the Sée river.
You can also go seafishing or navigating on an sailing boat : the Marité, the Granvillaise or the Lys Noir.
Visiting itineraries for Jersey and Guernsey islands are available : by canoeing, by bus, on a horse.
The sea seeing from the sky is possible parachuting, first flight, with paraglider or microlights over the Mount Saint Michael's bay and Granville.
Of course, to enjoy a day at the beach, around Granville sandy beaches are perfect to relax or to play for kids.
To change a little bit we suggest you Jullouville, Carolles, Kairon and Saint Pair Sur Mer beaches, which are the nearest. You are looking from peacefulness and quietness: go to Bréville sur Mer beahc, to the Bec d'Andaine or Barneville Carteret, Saint Martin de Bréhal, Hauteville Sur Mer.
Eventually, take the time to discover Portbail and Granvillel harbour.
Meet us at the reception to find events of the moment : festival, flea market, concert…