Château de Lez-Eaux, family campsite in Saint Pair sur mer, Normandy
The 5 stars Château de Lez-Eaux campsite in the bay of the Mont Saint-Michel in the Manche, Normandy close to Granville and Avranches. A "Castel" branded campsite nearby the sea with indoor and outdoor swimming pools in the Manche.
Discover the domain
Facilities
Ideal place to have holiday in family, as a couple or with friends. Discover our high standard services and facilities:
---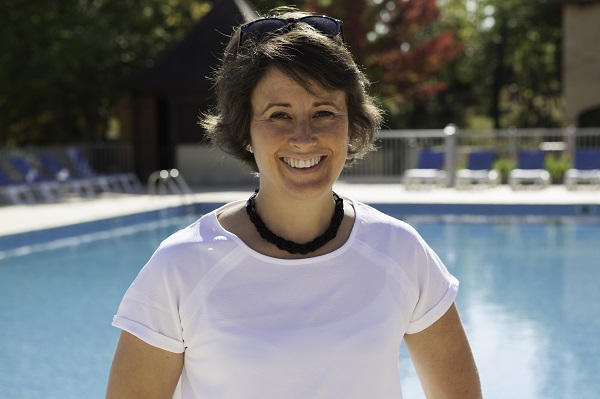 Owner's word
I am pleased to welcome you in my family property which is also my childhood house. All members of the campsite's team are at your disposal with one goal: " make your holiday a success"
Lez-Eaux is a majestic place which inspires peacefulness.
We want your stay to be an exceptional one, to make it real, we follow 3 rules
1°) be attentive to your needs
2°) offer a clean institute always flawless
3°) quality equipment and facilities
We did managed to have the 5 stars campsite once again and still working day and night to make this institute a high standard quality. Finally, we are committed to, like previous years, to do all that can be done, our expertize, enthusiasm, to make your holiday a successful one.
My team and I will be pleased to welcome you from April to September. We stay at your disposal to guide and advice you to organize and book your journey here.
Phone number: 00.33.2.33.51.66.09
Hope to see you soon,
Cécile de la Varde.
---
Some History about the domain
---
Staff of the campsite Lez-Eaux
Here are the staff members !
We are glad to greet you and will be pleased to meet you on the domain.

Maintenance
Benoît, Olivier, Thomas, Matthieu and Tony.

Cleaning
Catherine, Christelle, Elise, Nina Laura and Christine.

Reception
Emmanuelle, Sabrina, Théo, Zoé, Cholé et Romane.

Take-away meals
Xavier, Camille, Elisa et Anaëlle.

Bar / Breakfast
Léa, Lise-Marie et Lisa.

Grocery
Nathalie et Marion.

Pools supervision
Ciara, Quentin, Clémentine, Mélissa et Perrine.

Entertainment
Mylène, Anna et Sarah.

The 5 stars Lez-Eaux campsite, close to nature in the heart of the bay of the Mont Saint-Michel for your family holiday
The nature preservation is really important for us; this is why we are involved in that way and we offer the possibility to have a night in a treehouse and enjoy an immersion in nature and the serenity of the Normandy's countryside. Our facilitators are there to offer activities for you and your children.
There is an aquatic resort with bouncy castles just next to it where children can spend their energy while others can do some electronic games or go to the TV-room.
Our institute is certified "Qualité tourisme","Normandie qualité tourisme" and the "Clef Verte".
A perfect starting point to discover South Normandy
Nearby the sea and Granville, you can enjoy the beach and the sea-side resort of the town. Close to the worldwide famous Mont saint Michel. Another unavoidable town, Cherbourg, the famous harbour and the Cité de la Mer to discover the sea.
Close to the landing beaches of the D-Day (Omaha beach, Utah beach in the calvados). The Landing beaches of the D-Day have thousands of tourists each year to remember the freeing of France by the allies.
Omaha beach is one of the famous among the 5 landing beaches of the D-Day, it is in the Calvados, at Saint-Laurent-Sur-Mer. Do not hesitate to ask the reception about the touristic sites and leisure of the region.