Granville: seaside resort and Chausey archipelago on the Channel coast
Granville, the seaside resort in Normandy with a lot of tourism close to your 5 stars Lez-Eaux campsite. The seaside resort of Granville in the Manche, close to the Château de Lez-Eaux campsite, do live by the highest tide in Europe and offers a wonderful landscape.
Granville, a typical town from Normandy,  with a lot of tourism interest.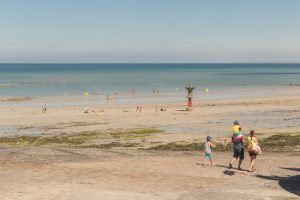 Old fish harbour, Granville was, for a long time, the first harbour of seashell in France. Now it is a place of art and history, the seaside resort of the bay of the Saint-Michael's Mount can be proud of its legacy.
Perhaps is it because of the sea environment, Granville has a tremendous architecture heritage to discover. With the "pointe du Roc", Granville has earned the name of "Monaco du nord", the rock reminds of the Monegasque homologue.
Granville is also really famous for its carnival, one of the biggest in Europe.
Despite of the harbour on the coast of Granville, we do recommend to go to the high town, historical quarter of the Manche's town. You will only be at 17 kms far from the archipelago of Chausey or at 1 hour boat from Jersey.