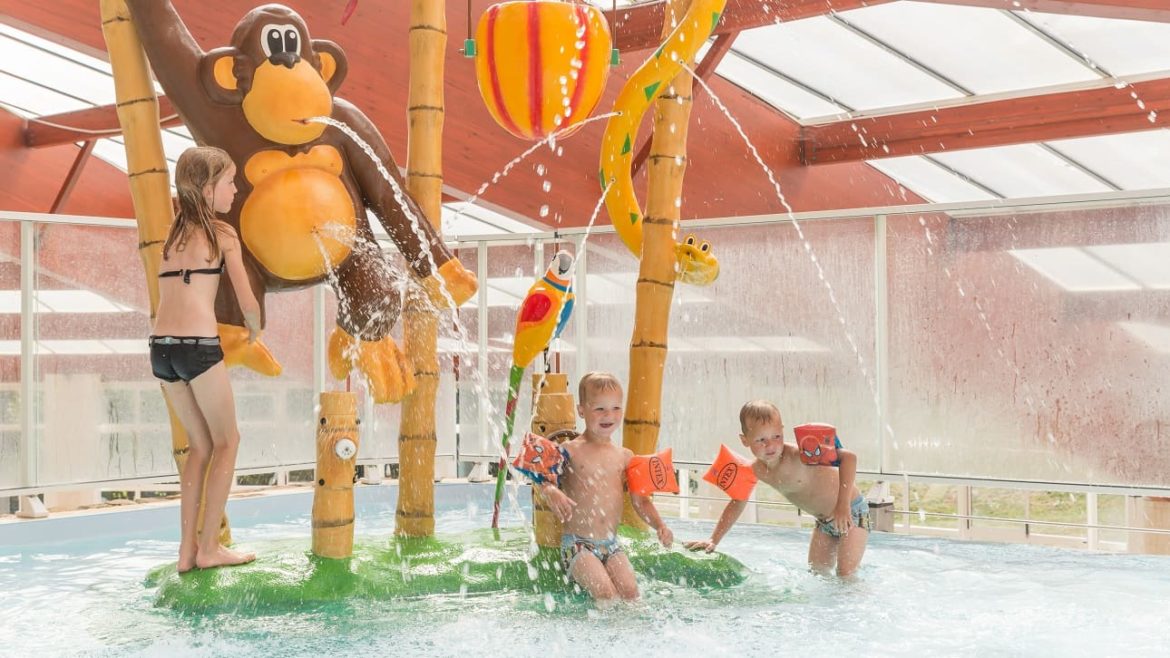 You don't know which of all those Normandy campsites to choose?
You have children, you need some rest, you want to have fun with family, and you dream of a beautiful place surrounded by nature? Chateau de Lez Eaux campsite offers all of this: a castle park, a huge warmed indoor waterpark and family holiday rentals.
The campsite is open from April to September, so does the indoor pool!
A covered and heated waterpark for the whole family happiness
Lez-Eaux domain converted into a campsite in 1960. At first, we greeted a few campers. Then, the success of the castle park, led to grown and offer more facilities.
This is how, since the 80's, we built, piece by piece, an amazing waterpark, worthy of a 5 stars campsite! At that time, a camping in Normandy with indoor pool was quite exceptional, but wise. We love Normandy but have to admit that in Easter or spring bank holiday, weather is not reliable.
Nowadays, Lez Eaux offers a fantastic waterpark for the whole family. The all building is covered and heated.
There is a changing room at the entrance to put his / her bathing suit on and have a shower before leaving.
The main pool is heated at 85°f and is 1m20 deep maximum. According to your desires, you can splash around, play, slide or just relax. There are massage jets and counter current swimming water flow the edges of the pool.
Water aerobics takes place in the indoor pool every summer.
Slides, paddling pool, aquatic playground for babies, kids and adults.
You will find amazing entertainments in the covered swimming pool: a paddling pool, an aquafun area, sun lounge and 3 slides !
The aquafun pool area
The aquafun pool area was created in 2020. Kids have a lot of fun: climbing the hut to go down with slides and finally zigzag among waterjets springing from the floor, the sprinkling animals and above them.
The paddling pool for toddlers and babies.
The paddling pool has been conceived so that the little ones can splash around as long as they can. They will be amazed by these few centimetres of water which are warmed higher than the others pools and the the sprinkle animals.
Water slides with sensation

There are 3 water slides in the waterpark for kids and adults.
1 Pentagliss : a fast and sensational descent
1 long slide: 45 meters of turns again and again
1 Buoy Slide: embark on a buoy for a long descent into a tube slide that even cross outside the pool.
Sun lounge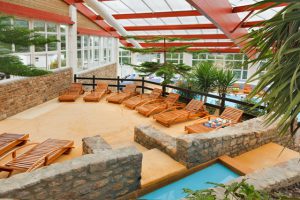 On the floor, facing south, the solarium area invites you to relax behind the windows or outside depending on the weather.
The outside heated pool
When outside temperature becomes cool enough to appreciate outside bathing, the second swimming pool opens. It's a 13 metres long pool allowing to enjoy diving and swimming.
Find out more about Lez Eaux swimming pools
What to do in Normandy after the swimming pool daily session?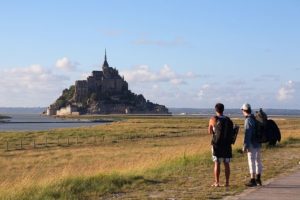 Even if one could spend the whole day in the waterpark of the campsite, you can keep a few hours of your day to visit the surroundings.
Normandy has one of the richest heritages of France such as seaside resorts, D-Day beaches, and Mount Saint Mickeal. Mont Saint Michel is 45 minutes driving from the campsite, it would be a shame not to go.
Lez Eaux campsite is 1h30 driving from Ouistreham, Cherbourg and Saint Malo. You can book a camping pitch or cabin for a few days; you will be able to enjoy the indoor heated swimming pool and to spend some time in Mont Saint Michel or Granville.
The team is available all year long to answer your questions and help choosing your accommodation.