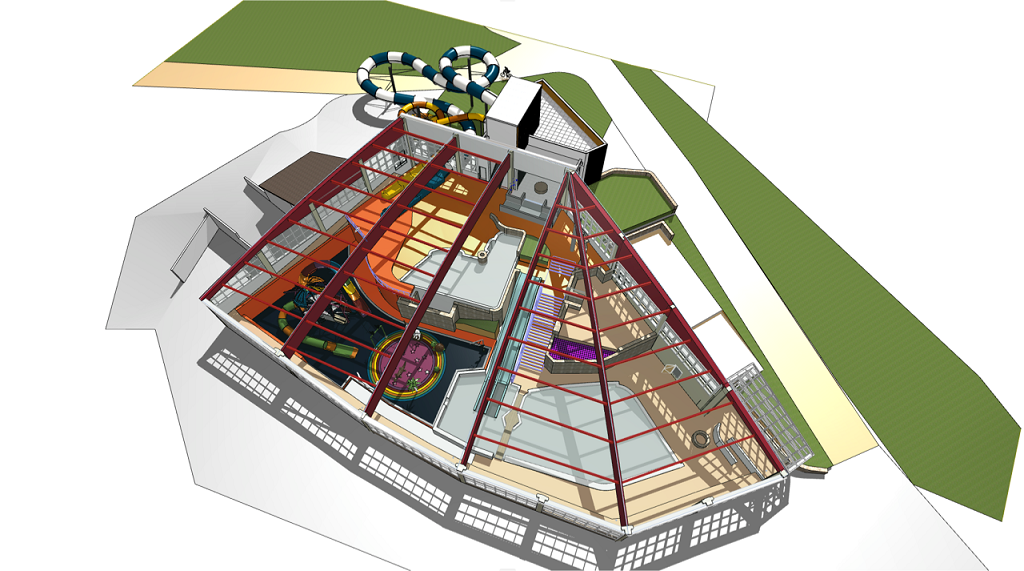 Discover the wonderful and new indoor water park of Lez-Eaux campsite, one of the most beautiful campsite in Normandy.
To celebrate its sixty year, Lez-Eaux campsite has decided to renovate is indoor aquatic park of 1300m². With 5 aquatics slides and its water play area treat yourself to a great extended weekend or family vacation between Granville and Jullouville!
For the 2020 season you will enjoy a renovate swimming pool ! Tout a était pensé pour encore plus de divertissement et de bien-être.
Dive into the heart of this amazing indoor water park where all family will have fun, guaranteed bursts of laughter!
Well-located between in the bay of Mont Saint Michel and Granville, at the gateway to Brittany, the Château de Lez-Eaux campsite welcomes you in a 12 hectare green surrounding. Enjoy the pleasures of bathing with our amazing covered aquatic park in all weather. Water and air are heated for your comfort.
Building of changing rooms, by requests of our customers s
From now on, a changing room will be at your disposal at the entrance of the covered swimming pool. In the event of bad weather, if you cannot arrive dressed with your swimming trunks, it will be easier to change of clothes
In this changing room you will have:
Individual changing cubicles
2 family/disabled change rooms
Toilets
Washbasins
Hairdryers
Baby-changing tables
Great you are ready, cross the footbath and have fun in this indoor aquatic park of 1300m².
The paddling pool for young children
A paddling pool of 65m² is the best place to discover the joys of swimming with infant. Mister Monkey and Mister Parrots who are the kings of the area will be happy to spray your children with water.
Our amazing fast and buoy slides !
Close to the paddling pool, go upstair to access the start of our two fast slides. Take a buoy close to the blue slide and embark upon a slope of 75 meters. The red and orange slide will enchant the less adventurous with its 45 meters descent.
The swimming pool and the play area.
On the ground floor you will have the choice between a relaxing swim in the 120m² pool with countercurrent swimming or fun and laughter with our aqua-play area. The latter will enchant children: two aqua-slides from a small hut and sprinklers animals.
Activities during the high season, July and August.
As every year we open the outdoor swimming pool in middle of May for the long Ascension weekend.
During summer, every morning at the indoor swimming pool our facilitator will wake up you with an aqua fitness lesson.
At Lez-Eaux campsite children never get bored with all the activities: a family atmosphere is guaranteed.
During your stay meet our animals at the mini-farm. They love visits and caresses.
In high season our facilitators feeds and care the animals with children.
Sports fanatic or beginner, Lez-Eaux campsite (member of Le French Time group) have at your disposal: football field, tennis court, volley field, French bowls area and home-ball area. You can also have a relaxing break around our pond or fish one of the big carps we have.
At Lez-Eaux campsite all is gathered to entertain children : two playgrounds area, three bouncy castles, a videao games room, bike rental and large green space to run, jump… .In july and august the kid's club.
In July and August, the children's club offers manual activities, games and sports competitions.
Lez-Eaux campsite the place to be for wonderful family holidays in Normandy.